One hundred years ago flying was a much simpler affair; all a pilot needed to take to the skies was a motorized kite and a strip of grass, and maybe some Dutch courage in a hip flask! However, times have long since changed and an airfield cafe – sans Dutch courage of course – has become as crucial a facility to any aerodrome as a windsock or tower. Without it many pilots would perhaps simply lose the motivation and energy to fly! Given the establishment's undisputed position at the epicentre of the general aviation world, it only seemed right to seek the advice of Wingly's pilots when comprising a list of the best airfield cafes and restaurants in the UK. Here are some of their recommendations:
Conveniently sitting approximately halfway between London and Brighton, Redhill is the ideal hub for flights around London and along the South Coast. Talking of hubs, the airfield's Pilot's Hub is just that – providing a superb meeting place for pilots! Yet, with a long menu of delicious, high quality food, you don't have to be a pilot to be drawn to this fantastic restaurant. On good weather days, you can't miss going out onto the terrace and watching the constant stream of movements outside.
Wright Steak Sandwich – £12.80
'Seasoned tenderised chargrilled butchers rump steak served in a toasted rosemary and sea salt focaccia with caramelised red onion and balsamic roasted cherry tomatoes. Accompanied by a side salad and a handful of our gourmet chunky fries.'
Website: https://www.pilotshub.co.uk/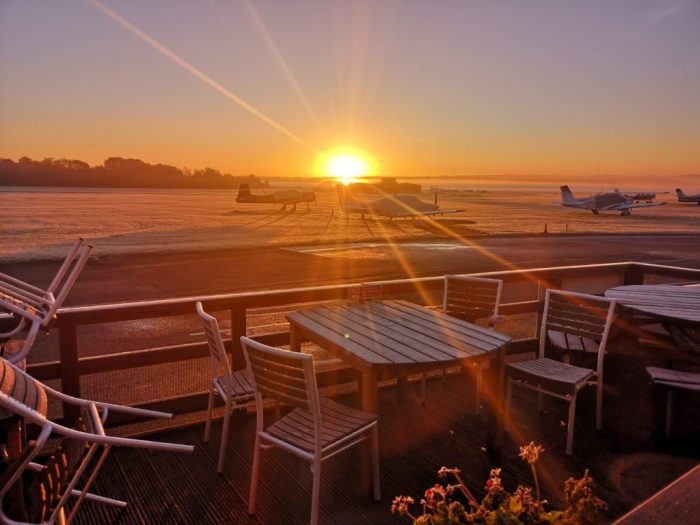 A scenic approach, plenty to do and see in the local area and better-than-average weather, the Isle of Wight is a favourite landaway destination for many pilots across the South (and further afield). If visiting it'd be a shame not to enjoy the sunshine of the sunniest place in the UK and explore some of the natural attractions such as Alum Bay, the Needles and Steephill Cove. However, in the highly unlikely event that you find yourself under cloudy skies, or, dare I say, rain clouds, then why not head to Bembridge Airport's renowned Propeller Inn? Featuring a long, wide-ranging menu with plenty of gluten-free, vegan and vegetarian options, there is something for everyone! Plus, if you happen to be on the island on a Wednesday or Friday, then make sure to be there for the quiz and steak nights held on these evenings respectively. Keep a lookout for Alan Sugar whilst you're there!
The Jumbo 747 – £15.50
Two 6oz beef patties, smoked bacon, cheese, tomato, gherkins, flat mushroom, onion rings and BBQ sauce
Website: https://propellerinn.co.uk/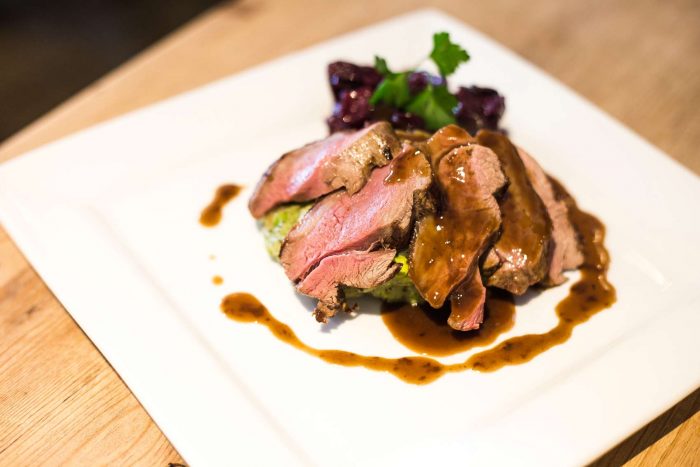 Located on the fringes of the Snowdonia National Park, the region's spectacular mountain scenery draws plenty of pilots from across Europe to North Wales general' aviation hub each year. Whether your trek over the mountains took an hour or several days, once on the ground it would be a shame not to pay a visit to Caffi HEMS. As the name suggests, the cafe is run by the Wales Air Ambulance Charity, with all profits going to help keep the service's four helicopters in the skies, saving lives. Plus, with an impressive menu of food with plenty of locally sourced ingredients, there is no reason not to stop by! Mwynhewch eich bwyd!
Cod Goujon sandwich with chips and peas – £6.50
Website: https://www.caffihems.com/
Citations and King Airs, Diamonds and Pipers – relatively few airfields in the UK enjoy such diverse visitors as Gamston. Whilst making the airfield a hotspot for enthusiasts looking to log an unusual movement, those not so interested in the comings and goings of aircraft can find some enjoyment in the airfield's award winning eatery. A far cry from tea in polystyrene cups and greasy burgers, the Apron Cafe and Bakery offers a diverse menu of culinary delights. Aside from an impressive selection of cakes and savoury baked goods as their name may suggest, those looking for something more substantial will be pleased to hear that the restaurant offers a range of cooked meals and offers a three course lunch menu in addition to a comprehensive range of breakfast options for those early morning flyers.
 Three course meal – £23
Smoked Salmon Tartar, Avocado, Brown Crab Starter
Slow Cooked Pork Belly, Sweet Potato Rosti, Black Pudding and Apple Main
Hot Chocolate Fondant, Evaporated Milk Ice Cream, Frozen Raspberries Dessert 
Website: http://retfordairport.co.uk/index.php/the-apron
What could be better than sitting on the patio under clear sunny skies with a delicious hot breakfast whilst watching aircraft land and takeoff? Whilst the Bushe Cafe may not be able to guarantee the sunshine, they can provide the other two. With a reasonable selection of hearty breakfasts, ranging from the traditional massive full English to a Polish breakfast consisting of scrambled eggs mixed with bacon and onions with toast, Blackbushe is the perfect landaway destination for a quick morning morning flight. For those not fancying something quite as substantial, a range of other options including sandwiches, jacket potatoes, omelettes and soups are also offered – all of which come at a more than reasonable price!
Polish Breakfast – £5.55
Three scrambled eggs mixed with diced bacon and fried onions, toast
Website: https://www.thebushecafe.co.uk/
Located inside the clubhouse of Yorkshire's Sherburn Aero Club, Digby's proves popular with pilots and non-flyers alike, giving those interested in becoming a private pilot an interesting insight into club life, providing an introduction to the flying community. Meanwhile, the good views of the airfield ensure that the cafe proves popular with non-flyers – particularly those escorting friends and family on their first flight in a light aircraft. Don't miss the cafe's afternoon tea sessions, with a meal for two costing a mere £17 and featuring a delightful selection of sandwiches, cakes, scones and of course tea!
Digby's Steak Pie – £6
Homemade pie served with chips or jacket potato and peas 
Website: https://digbys.online/
Having opened in 1911, Shoreham, otherwise known as Brighton City Airport enjoys the impressive status of being the oldest purpose built commercial airport in the world – with its 1930s classic art deco terminal serving as an attraction in itself, drawing in architectural experts from far and wide. Aside from visiting the local beach and admiring the historic terminal, visiting the airport's Hummingbird Restaurant is a must for those passing through Shoreham. Serving a wide range of high quality food made with locally sourced ingredients at good prices, you will depart neither hungry nor disappointed.
 Moules Marinière – £10.50
Mussels cooked in a creamy white wine and garlic sauce served with garlic and herb focaccia 
Website: https://flybrighton.com/visit-the-airport/restaurant/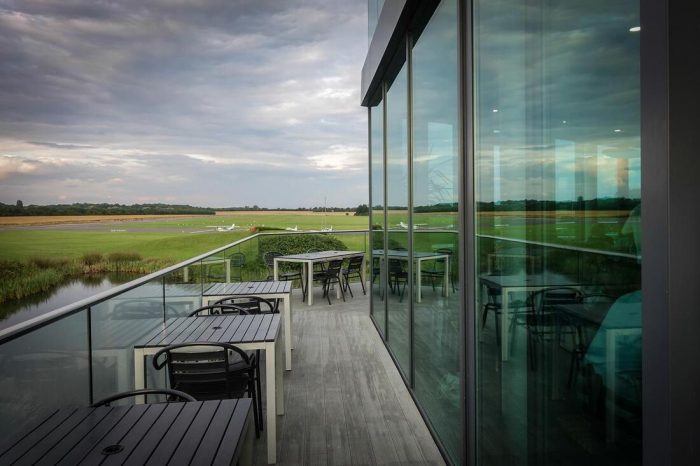 If you're planning on visiting London, you ought to consider leaving your aircraft at North Weald. Not only is the airfield within reasonable distance from London, it is also home to one of the most popular cafes amongst Wingly pilots. With all main dishes priced at under £6, the cafe is certainly one of the more affordable options for those looking to dine at an airfield. Plus, with an extensive menu, there is something to suit all tastes. Last but not least, with outdoor seating and a children's play area, the cafe is fantastic for summer and ideal for families!
Vampire Breakfast – £7.45
2 sausage, 2 bacon, 2 eggs (fried, poached or scrambled), beans, 2 hash brown, mushrooms, tomatoes & toast with butter
Website: http://www.wingscafe.co.uk/
Located just to the southwest of the world-famous Silverstone Circuit, rather than just seeing this from the air, why not make a landaway at Turweston Airfield. Whether you are a racing fan or not, or even a dog, all are welcome at the cafe which even features dog food on its main menu – try not to order this by mistake! Turning to the more attractive items on the menu – a range of sandwiches, salads and breakfast options are offered in addition to a wide range of drinks.
Avocado on cornbread – £8.95
Sliced avocado with homemade chili jam on toasted cornbread with bacon or scrambled eggs and roasted tomatoes
Website: https://www.turwestonflight.com/flight-deck-cafe/
Not only do these long established facilities usually serve good food at reasonable prices, most are at the heart of the action, offering superb views of the movements at the airfield, destinations in their own right! Away from food and views, airfield cafes commonly serve as a hub for pilots to meet and discuss their modest tales of adventure from years spent buzzing around Britain's skies. We hope you have some inspiration to visit some of the best airfield restaurants and cafes in the UK now!
If you're looking to post flights on Wingly, why not make a landaway trip to one of the above and enjoy the best of what airfield cuisine has to offer with your new co-flyers before heading back home!
---
---