Twenty return economy class tickets between London and New York, a hatchback car or over five thousand cups of tea at airfield cafes – each would set you back around £10,000. Coincidentally, these are all items that Blackbushe-based pilot Paul may opt to buy with the small fortune that Wingly has allowed him to save by using the platform.
Having initially signed up to use Wingly not too long after its debut in the UK market in 2016, to date, Paul has managed to rack up a total of 32 flights, sharing his passion for flying with over 75 passengers! Allowing them to experience the excitement of flying in a light aircraft to destinations both near and far. In the wake of this great milestone, we recently interviewed Paul to find out more about his experiences using Wingly

Why did you initially sign up to use Wingly?
I was one of the first to sign up in the UK. Honestly, it was just something new at the time and I didn't really know much about it so it was really just to try it out. I signed up with a couple of other platforms at the same time, but they very quickly waned away as Wingly gained critical mass and became the premier platform. Since then I have come to realise it is a really great way to do a lot more flying which is what I love to do. Aviation is an expensive hobby, but by sharing costs I can do a lot more flying than I otherwise would.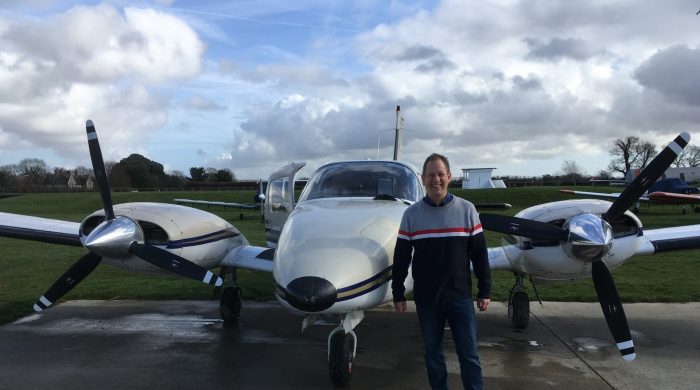 Have you had any particular memorable moments whilst using Wingly?
It was great to take a family of four to watch the Grand National earlier this year. Also a family of 5 to the beach in Alderney over the summer which is when I reached by £10k milestone. Another highlight was being invited to lunch at my passengers' home in Perranporth as I had brought them all together for a family celebration. Their house was in an amazing location overlooking the beach!
Are there any particular flights that you find more popular with passengers?
I have focussed more or less exclusively on return day trips which are very popular with those celebrating a birthday or anniversary, or those just wanting a different, more adventurous day out. From my base in Southern England, anywhere in France or the Channel Islands are very popular, also out west like Cornwall which otherwise takes a very long time to get to by road.
Looking back on your experience, would you recommend Wingly to other pilots?
Absolutely. It has dramatically increased the amount I fly which has made me a much more proficient and safe pilot. I simply could not have afforded to do the amount of flying I do now without Wingly and by sharing the cost of my flights with passengers.
Do you have any advice for pilots that have just signed up to the platform? 
Take it one step at a time. Maybe start with a sightseeing flight around the local area. Then move up to short cross countries, but always go there first yourself so you know what to expect before taking passengers. Only when you are really comfortable with that should you step up to longer distances and especially foreign travel. Always make sure you are comfortable doing it on your own before adding the additional complexity of Wingly passengers.
What is your favourite aircraft?
The Piper Seneca 3. It has 6 seats so I can take up to 5 passengers (depending on weight). This means it is particularly suitable for families with young children.
And your favourite airfield?
Anywhere I have not been to before.
Paul's Reviews:
Paul took us to Deaville for the day and it was the most amazing experience. We got to meet family for lunch and return later. Paul talked us through all the pre flight checks and was happy to answer all our questions and explain how the interaction with control towers worked. The weather was great, visibility amazing and the day was perfect
Gerard, 22/09/19
It was a pleasure flying with Paul, and we had a fantastic day trip to Ostend/Bruges. Paul very helpfully explained everything in terms of weather and safety checks prior to the flight, and we had a wonderful flight with Paul pointing out areas of interest on our way to Ostend and explaining the best way to get around once we got there. I would highly recommend flying with Paul! 
Henna, 15/05/18
No matter whether you're relatively new to the skies, or a veteran pilot with thousands of hours, Wingly allows you to maximize your hours, fly to new destinations and share your passion for aviation. If you would like to save money flying with Wingly every time you take to the skies, then sign up today! 
If you wish to hear about Paul's experiences with using Wingly directly, then have a look at some of the superb flights he offers ✈️
---
affordable
,
airfields
,
aviation
,
beaches
,
equal cost sharing
,
europe
,
excursion
,
flight
,
flight sharing
,
flightsharing
,
fly
,
france
,
le touquet
,
pilot
,
share flight cost
,
sharing costs
,
summer
,
travel
,
UK
,
wingly
---