Heinz, a German pilot using Wingly, began his journey to becoming a private pilot as a passenger on Wingly. His first flight in a light aircraft with a private pilot for the first time spurred him on to get his own license, which didn't take long! Today, at the age of 22, he holds his PPL, and shared with us his journey and his motivation to become a pilot!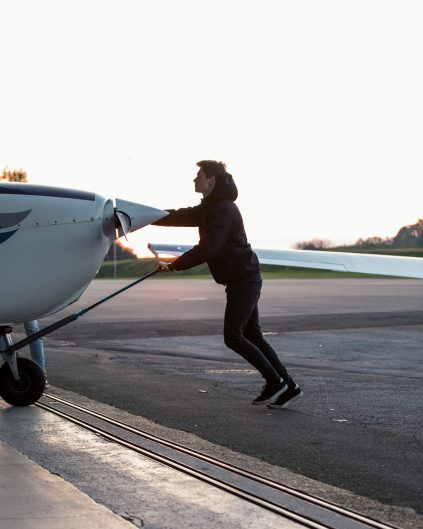 In a Cirrus SR22T to Palma de Mallorca
Heinz prepares checklists for flight schools or clubs, gives tips on how to get your own license and documents his trips above the clouds – such as his trip to Palma de Mallorca. With the help of his YouTube channel and the tutorial platform Aviation Hero, (in German), he wants to inspire a new generation of private aviators . Heinz gives his followers an insight into his experiences as a private pilot and helps them with their first steps towards gaining their own license. Find out more about him and his background in our interview!
Wingly: What led you to your first Wingly flight?
Heinz: I first heard about Wingly in 2016, and I immediately found the concept of flight sharing really cool – a kind of blablacar for airplanes. I had my first sightseeing flight in a Piper right next to me in Essen. And that was simply amazing! Just flying free in the air wherever you want – I never thought it would make me so excited! From that moment it became clear : I'll have to do it myself some day!
So I started my pilot's license and at the same time looked for flights on Wingly from time to time. There I came across a flight with a Cirrus SR22, a model aircraft that I already knew from videos by Niko's Wings. And this Wingly flight went with the pilot Michael for a long weekend on Mallorca! My first private flight abroad in a Cirrus SR22 – that was simply indescribable.
Wingly: When did you decide to become a pilot yourself?
Heinz: I made my first flight in New Zealand in 2015. I walked past a sign that said: "30 min flying a plane yourself without any previous experience". And my interest was already aroused! Of course I was only allowed to steer a little in the air, but at that moment I had the feeling that I was in control of the whole plane! Exactly then it was clear to me: I want that too! Two years later in Germany, I started my pilot's license.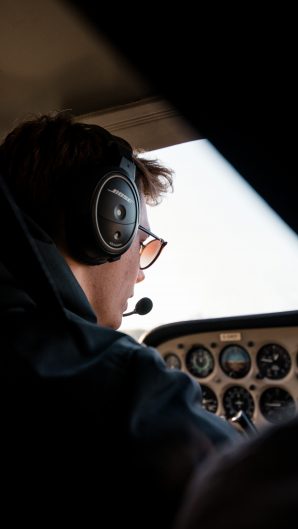 Wingly: What would you have liked to know before you got your license?
Heinz: I started my license at a gliding club near me. One of the cheapest variants was the LAPL. I knew I could upgrade to a PPL or fly ultralight at a later date. But what I would have liked to know before choosing between flight schools and clubs is whether you only have a grass runway, for example. In retrospect, I would definitely have chosen a club that had an asphalt runway. On a grass runway you can't fly for a while after rain, because the place is soaked.
Besides, it would have been good to know which clubs have available flight instructors and a permanent flight operation. In the gliding club, a third person always had to come to the field to take over the radio. So the flights are even more difficult to organize. In my first year I only had 8 flying hours due to all these factors, although I felt that I was in the club every day. That was also the moment when I thought to myself: As soon as I have my PPL, I have to make this process more transparent for others!
Wingly: How do you plan to develop your flying skills in the next few years?
Heinz: I definitely want to continue. It was never my dream to sit in the cockpit of an airliner. I think it takes away the passion when it becomes something you have to do. Still, I would like to do the ATPL in the future. In aviation you can never stop learning. You always learn something new. With every flight. With every experience.
Wingly: How would you describe the feeling of flying to someone who has never flown in a private plane?
Heinz: If I could use just two words, they would be: absolute freedom. It's very difficult to put into words. You just have to experience it yourself. To see everything from above, to see how small and at the same time how big the world is. Only when you fly, you realize how insignificant your own problems actually are.
Wingly: What new flying goals do you want to achieve with Wingly?
Heinz: I want to share my enthusiasm with others. After a while, flying seems almost normal. But as soon as someone is on board who is as excited as I was on my first flight, you learn to appreciate the feeling more. That is the most beautiful thing about sharing such an experience with others. That's why I think Wingly is such a good idea!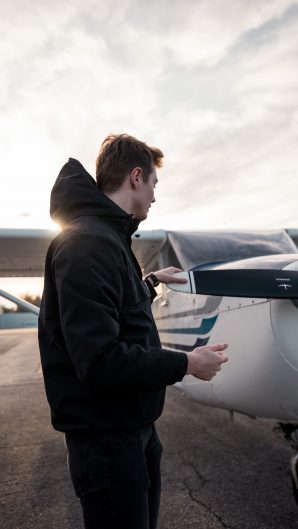 Wingly: You are really active on Youtube and even have your own website, what motivates you?
Heinz: The passion for flying and for making this dream possible for others. I had already looked at a few YouTube sites that are in the aviation field. Mostly in English though. I myself had to learn a lot from books or CDs/DVDs. Now I would like to modernise this for my generation.
Wingly: Why is it worthwhile to do your own flight training?
Heinz: As a pilot you can always decide where you want to fly to and you see the world from a completely different height than from a passenger plane. That way you can see much, much more. Because small planes fly under the clouds, unlike airliners. Or, in Leonardo da Vinci's words: "Once you have tasted flight, you will forever walk the earth with your eyes turned skyward, for there you have been, and there you will always long to return."
Check out Heinz's Wingly flights in Germany here, and take a look at his blog (in German) and YouTube channel! And in case you were wondering about becoming a pilot yourself, take a look at our blog: Top 10 Reasons You Should Become a Pilot!
---
---