Ever wonder what a weekend trip to Newquay is like?  Pilot Robbie blogs about his weekend trip to Newquay giving Wingly flightsharing passengers a chance to join him on his trips. 
The idea to fly to Newquay came about late April, early May shortly after I completed the differences training on the Diamond Star DA40.  It wasn't until we booked the aircraft and had approval from the owners that we started the planning and how feasible such a trip was.
I started my flying in the extremely cold month of January 2010 and completed my license in November 2011. Since then I've converted my license to EASA, gained a night rating along with the Instrument rating (restricted) and flown almost 180 hours.  But I'd never flown a weekend away and never flown such long distances in a light aircraft. The initial plan was to fly Stapleford direct to Newquay on a 250 mile non-stop journey on Friday the 30th June, a journey that would take just over 2 hours. We were then to fly back to London Sunday evening on a slightly quicker journey time of 2 hours.
It was then discovered that I had the wrong weight & balance information and that doing the journey non-stop and having enough IFR reserves wasn't possible.  The weight of 3 adults, carefully calculated with trip fuel and diversions as necessary with enough reserve would make the flight illegally overweight by some huge margin.   A necessary tech stop in Gloucester both ways would allow the flight to take place, at just under max take-off weight.
On the afternoon of the trip, it quickly became apparent that we wouldn't make it any further than Gloucester although a small opportunity might arise for the flight later that evening to Newquay.
A fairly satisfying afternoon IFR flight to Gloucester, but as you can see the further west we flew the more the weather deteriorated. Storm force winds and low-level cloud meant we lost a night in Newquay, but at what expense?
Flight 1 of 4 – Stapleford to Gloucester
After a miserable night of weather in the South West of England, night stopping us in Gloucester; we decided to make the 173-mile flight to Newquay, and after some intense deliberation regarding the weather we got airborne.
We routed initially towards Cardiff and after a few communication problems, we got across the zone, not without a fight with the mid-summer Cumulus and strong winds coming off Brecon. We then completed the long stretch across to Cornwall landing via the ILS approach into a beautiful Newquay, before the fog descended.
Flight 2 of 4 – Gloucester to Newquay
In Newquay, we tried the local Cornish Pasties, Cornish Cider and ice cream before taking a dip in the hotels swimming pool.  Later that day we enjoyed a local Mexican and a few beers. We stayed in the Legacy Hotel Victoria which overlooked the Great Western Beach, so a very lovely evening walk before finding some bars on Fore St.  Who said flying is just about the flying?
The fog quickly cleared and the worries of getting stuck in Newquay quickly faded away to a hot summer's day on the Cornish coastline.  A lovely walk to Fistral bay via the Towan headland before dining in a nearby fish and chip shop it quickly became apparent that we needed to head to the airport for our flight back to Stapleford via Gloucester.
Flight 3 of 4 Newquay to Gloucester
We depart over a beautiful Watergate Bay, before making the right turn towards our initial routing climbing up to 7000ft, hitting 151knots on the way. This provided an extremely quick en-route flight time. Cardiff is very helpful in taking us through its Class D airspace giving us an almost direct track up to Gloucester. This routing created turbulence passing Newport before making our hot and humid approach into Gloucestershire.
Flight 4 of 4 Gloucester to Stapleford

After just over 40 minutes re-fuelling and re-checking the aircraft for this final part of our weekend we headed back to Stapleford, after almost 72 hours from home. We departed Gloucester in a rather sporty right-hand turn towards Oxford for the brief ATZ transit, before reaching the north parts of London in just 30 minutes. This was a rather turbulent flight as the low levels and heat rising from the day provided a great day for gliding.
A quick avoidance of the rather busy Elstree ATZ, we found ourselves skipping the treetops of Epping Forest in no time, making a quick and safe approach to a lovely warm summer's evening at Stapleford.
This blog post was sent in by pilot Robbie who frequently flies across the country for pleasure in a DA40 from London Stapleford Aerodrome. You can follow Robbie on Youtube, Twitter, and Instagram. If you would like to join Robbie on his flights from London you can send him a message via his Wingly profile. If you want to join one of his flying adventures and be part of the Flying Vlogs check out all his Wingly shared flights.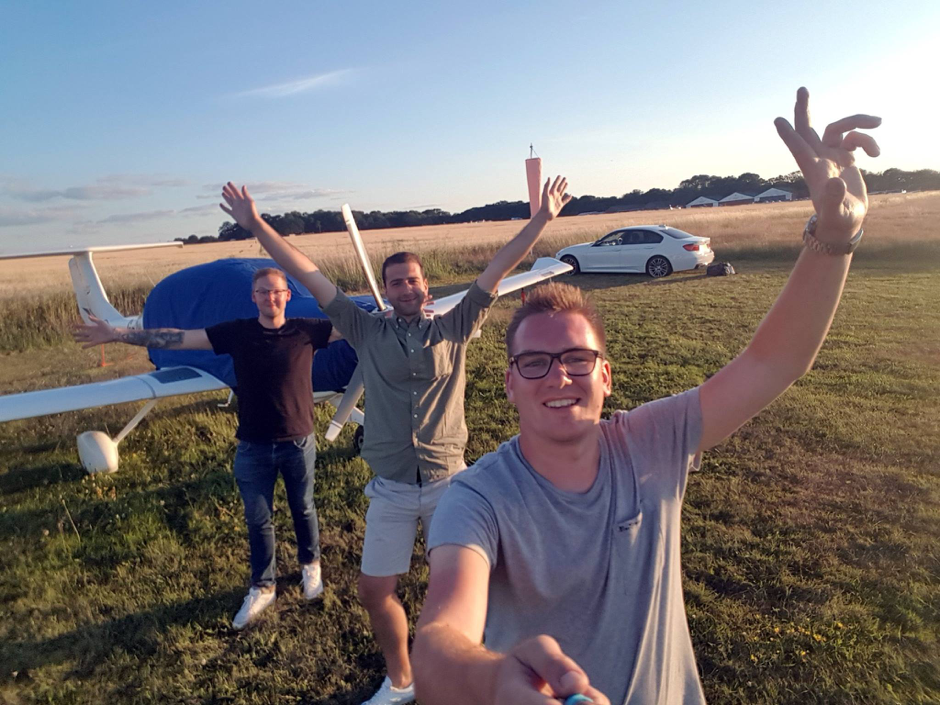 ---
---