Dear Pilots,
When we initially created Wingly, we designed it so pilots can share the costs of flights they were already doing by offering their empty seats to passengers.
Your desire to fly more has often triggered new and more diverse flying opportunities with different flying routes to new airfields. This platform is primarily made for you, so we have taken on board your feedback to try and meet your requests. Many of you have said that while you are wanting to fly more, these flights were not feasible when passengers booked single seats, thus contributing only 25% of the flight cost, for example, therefore leaving you as the pilot to pay the remaining 75%. Moreover, it would only be fair if the passengers covered an equal share of the cost by splitting the costs 50:50 with you, the pilot, instead of 25:75.
Therefore, after months of development and feedback, we're happy to announce that from now on, you have the additional option to share the costs of your flights on Wingly equally. We chose to add this pricing structure to help you share your costs fairly with each passenger. We also wanted to make it even clearer to passengers that you are equally paying for the flights as much as they are.
Introducing the new equal cost share feature!
How does it work?
You now have the choice between the following 2 methods of sharing your costs;
The first is the original fixed price per seat method, which we have kept for pilots who wish to continue to share their flights in this way.
The second is the new dynamically priced equal cost share method, where the price of each seat on your flight will automatically adjust depending on the number of seats being booked. Each person on board, including the pilot, will contribute the same amount to share the costs equally.
Therefore, based on a 4-seater aircraft:
For 1 passenger, you will receive 50% of the costs.
For 2 passengers, you will receive 66% of the costs.
For 3 passengers, you will receive 75% of the costs.
No matter how many seats are booked, your share of the costs will always be proportional to the number of passengers on board, so you will never pay more!
When should you use equal cost sharing?
When you are flexible on the dates that you can fly, equal cost sharing is, without doubt, the best way to post your flights so the price adapts automatically to the number of seats being booked.
When should you not use equal cost sharing, and instead keep the classic fixed cost per seat method?
If you are definitely going to fly, whether you will have Wingly passengers join you or not, it would be better to offer a fixed price per seat. Not only will you be able to share your passion, but you will also be able to reduce the cost of the flights which you are doing anyway.
How to modify existing flights?
We have everything put in place to ensure you can easily switch from one cost sharing method to the other. Simply go to the flight management page of your cockpit and select the flight you would like to change. Then click 'Modify flight', go the 'Cost' section and finally click on 'Switch to equal cost sharing'.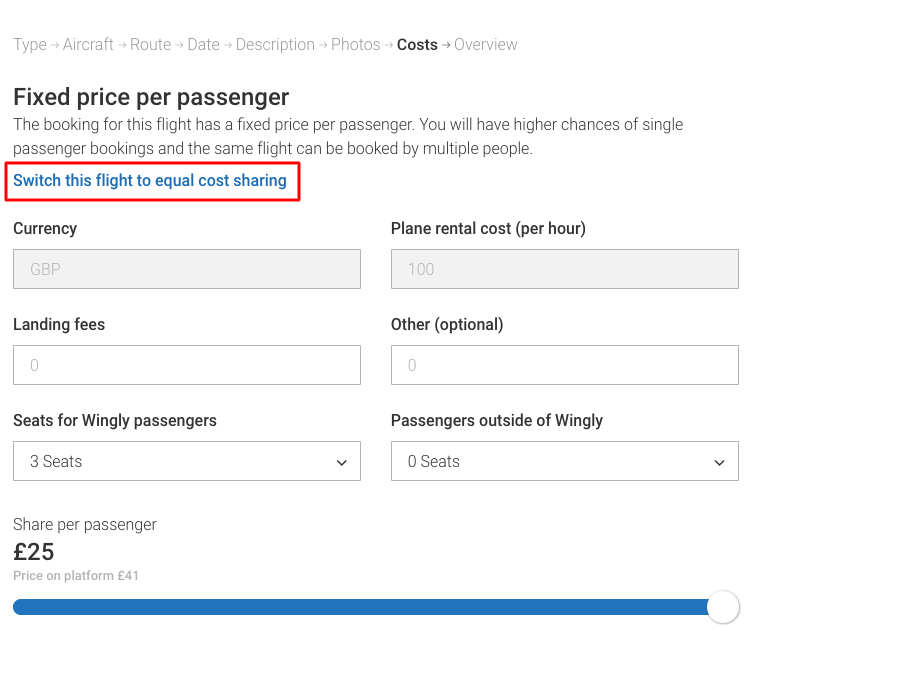 Summary
Equal Cost Sharing
Fixed cost per seat
Concept
You'll always share the costs equally with your passengers.

The price per seat will automatically adjust depending on the number of seats being booked.

We divide the total flight cost by the number of seats in the aircraft. In a 4-seater, each seat, therefore, represents 25% of the total cost.

If one passenger books, you will receive 25% of the costs, and 75% for 3 passengers booking.

When to use this method
If you have flights that are flexible on dates and you will only fly if you have passengers book to join you.
When you fly on a certain date regardless whether you have passengers join you or not because paying 75% of your usual costs is already a win for you.
Pros
No matter how many passengers book, you will always pay an equal share of the cost, never more.
A higher chance of multiple single seat bookings on your flights.
Cons
Once a flight is booked, you will not be able to have additional passengers join the same flight as the costs have already been shared appropriately.
You might pay more than the passenger if only a single seat is booked.
Example of a flight in a 4-seater aircraft, accounting for a total flying cost of £100:
1 seat booked
You pay £50

You receive £50

Each person pays 50% of the flight

You pay £75

You receive £25

The passenger pays 25% and you 75%

2 seats booked
You pay £33

You receive £66

Each person pays 33% of the flight

You pay £50

You receive £50

You pay 50% of the flight and each passenger 25%

3 seats booked
You pay £25

You receive £75

Each person pays 25% of the flight

You pay £25

You receive £75

Each person pays 25% of the flight
---
---