Wondering how to get more bookings and have your flights viewed by more prospective passengers? Well here you are, your go-to guide with some vital tips to help you find the right passengers and maximise your Wingly experience…
1. Better short and cheap, than long and expensive
For many users, booking a Wingly flight is their first experience with light aviation. Therefore, make sure to provide some short entry-level flights that don't last too long and aren't too expensive. Our most popular sightseeing flights last around one hour from takeoff to landing, whilst for excursion flights this figure stands at around 45 minutes per leg. Of course, if you are feeling a little more adventurous, you can also post a few longer (more expensive) flights too. By having a look on Wingly at those flights already posted will give you a good idea of the types of excursion flights that prove popular amongst passengers. 
2. The more flexible, the better
Yes, the vast majority of the pilots that use Wingly have full time day jobs which come first but we would encourage you to be as flexible as you possible can. Those flights with greater flexibility tend to receive far more bookings than those on fixed days. Here at Wingly we have made showing your availability easy! All you have to do is select dates over a period of a few months that you are free to fly and Wingly will add these to your flight. No need to create multiple posts of the same flight! This means that passengers can choose from your available dates. Whilst we encourage passengers to double check with pilots with regards to their availability prior to booking a flight, if for whatever reason you are unable to fly on a date selected by a passenger, you are able to offer up to five alternative dates. However, in cases whereby you are certain you won't be flying (for example you may be on holiday or your usual aircraft may be undergoing scheduled maintenance) then we would encourage you block off these dates in order to prevent rejected bookings. 
3. Eye-catching photos
They say you shouldn't judge a book by its cover, but to get bookings, your cover photo is a vital part in attracting the attention of any prospective passengers. Many of those that you will fly with will be unfamiliar with light aviation and photos allow passengers to get a rough idea of what will be in store for them. The more the better in this case; we suggest adding a minimum of five which should be a mixture of the aircraft, cockpit and the sights visible during your proposed flight. Finally, it is also worth adding that pilots ought to ensure their profile features an up to date (and sensible) profile picture – this will help to instil trust between pilot and passenger and ultimately increase your chances of securing a booking.
4. Think of a captivating title
Once you have the perfect route, the next task is to add a title to your flight. The titles are similar to the pictures, try to stand out! Get to the heart of what the flight is about and what makes your flight special, you want to be descriptive and at the same time highlight the excitement of flying in a light aircraft. For example, are you open about the flight route? Are you flying over a region with a specific feature or landmark? Why not offer a flight where the passenger can see their house or neighbourhood from the sky? The platform is your oyster however a captivating title is a must when attempting to secure the passenger's click. To summarise, steer well clear of generic titles like 'Sightseeing Flight' or 'Local Flight'! 
5. Description
Alongside your fantastic photos, your flight's description plays a crucial role in attracting passengers. Take your time to write a detailed description of the flight, however like the title, ensure this is not too long. Attempt to stick to 75 to 100 words for the description, enough to tell the prospective passenger what to expect, not enough to bore them! Note that many interested people have never flown in a light aircraft and do not know what to expect, so you take this opportunity to give them a little insight into what they might expect. Write down a little bit about the route, what you can see and what special features apply to this flight. Also, write about whether you are flexible regarding the route and some possibilities that passengers might have when flying with you. Try to motivate passengers to contact you. Give them the feeling that together you will plan and carry out an unforgettable flight.
For day trip flights (passengers who have booked a return flight with you) it is important to clarify your plans for once you reach your destination. Have you flown there before? Can you give insider tips on local sights? In addition it may be worth mentioning how your passengers can reach the destination from the airfield and any costs involved in this (although please note, these cannot be included in the flight sharing costs!). These are all important pieces of information that many passengers will want to know before choosing to book a seat on one of your flights. 
Need more help? Here are some more tips to help you maximise your Wingly experience…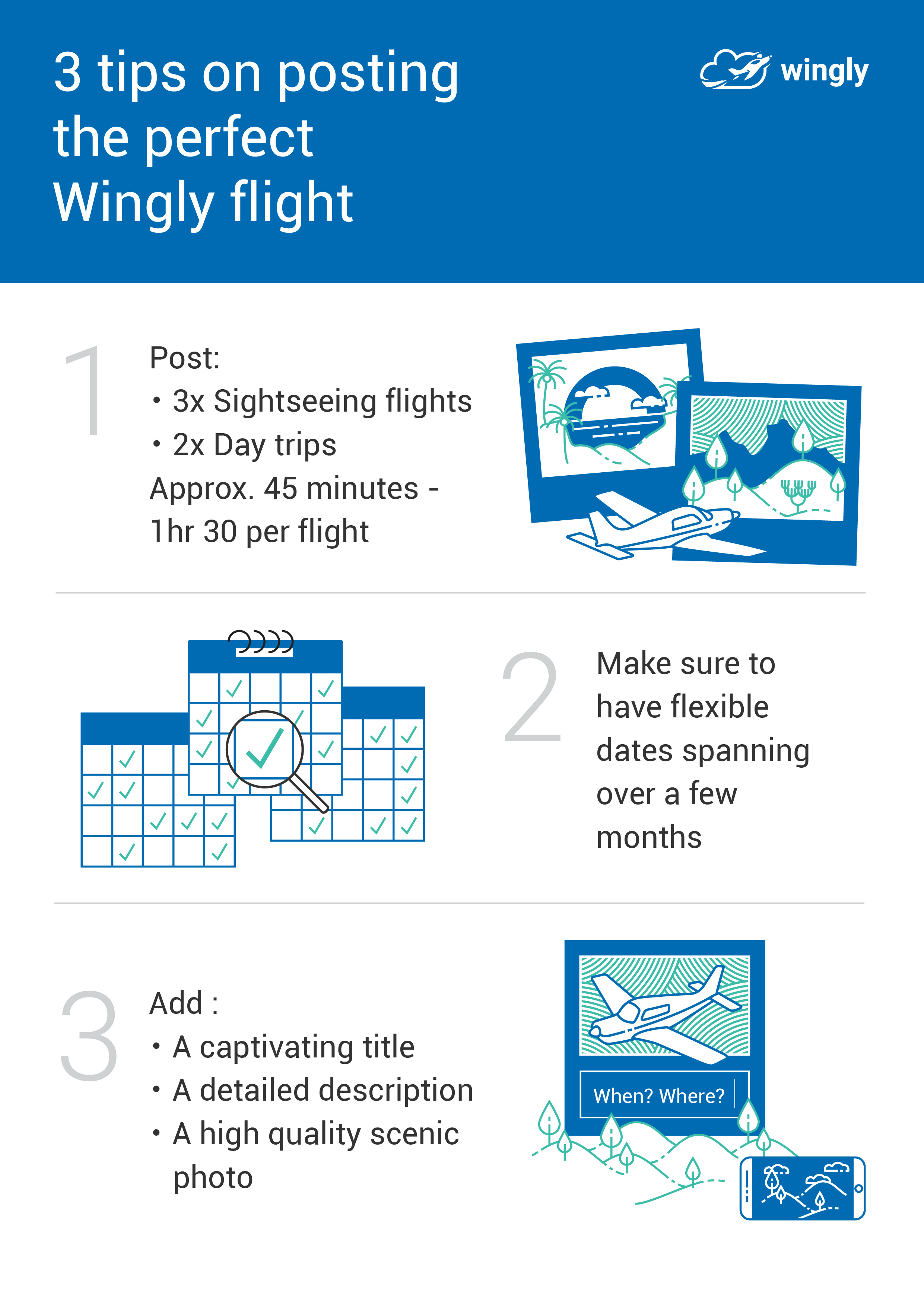 To start adding flights now Click Here.  Last but not least, keep regularly checking your Wingly account online for any booking requests. Once you have confirmed these, continue to check for messages from passengers and reply to these in a timely manner. Follow these steps and you'll be in the skies, saving money, flying more often and sharing your passion for aviation in no time!
---
affordable
,
airfields
,
aviation
,
equal cost sharing
,
flight
,
flight sharing
,
fly
,
helicopter
,
helicopter flight
,
pilot
,
plane
,
planes
,
sharing costs
,
travel
,
UK
---