Wondering how to get more bookings and have your flights viewed by more prospective passengers? Well here you are, your go-to guide with some vital tips to help you find the right passengers and maximise your Wingly experience…
1.Better short and cheap, than long and expensive
For many users, booking a Wingly flight is their first experience with light aviation. Therefore, make sure to provide some shorts entry-level flights that don't last too long, and aren't too expensive. Sightseeing flights that last approx. 45 mins are the most popular! And if you are feeling a little more adventurous, you can also post a few longer (more expensive) flights too or take some inspiration from flight requests that passengers have already posted.
2.The more flexible, the better
The more flexible you are with dates, the more bookings you'll get and at Wingly we have made showing your availability easy! All you have to do is select dates over a period of a few months that you are free to fly and Wingly will add these to your flight. No need to create multiple posts of the same flight! This means that passengers can choose from your available dates.



3. Eye-catching photos
They say you shouldn't judge a book by its cover, but to get bookings, your cover photo is a vital part in attracting the attention of any prospective passengers.  Think bright colours, a clear image, eye-catching scenery and spectacular views that you experience from the sky.

4.Think of a captivating title
The titles are similar to the pictures, try to stand out! Get to the heart of what the flight is about and what makes your flight special. For example, are you open about the flight route? Are you flying over a region with a specific feature or landmark? Why not offer a flight where the passenger can see their house or neighbourhood from the sky? The platform is your oyster
5.Description
Take your time to write a detailed description of the flight. Note that many interested people have never flown in a small plane and do not know what to expect, so you take this opportunity to give them a little insight into what they might expect. Write down a little bit about the route, what you can see and what special features apply to this flight. Also, write about whether you are flexible regarding the route and some possibilities that passengers might have when flying with you. Try to motivate passengers to contact you. Give them the feeling that together you will plan and carry out an unforgettable flight.
For day trip flights (Passengers booked a return flight with you) it is important to clarify your plans for once you reach your destination. Have you flown there before? Can you give tips on accommodation and good restaurants? Are there easy transport routes to reach the city centre / popular destinations? These are all important pieces of information that will help prevent future misunderstandings and let everyone know what to expect from the trip.
Need more help? Here are some more tips to help you maximise your Wingly experience…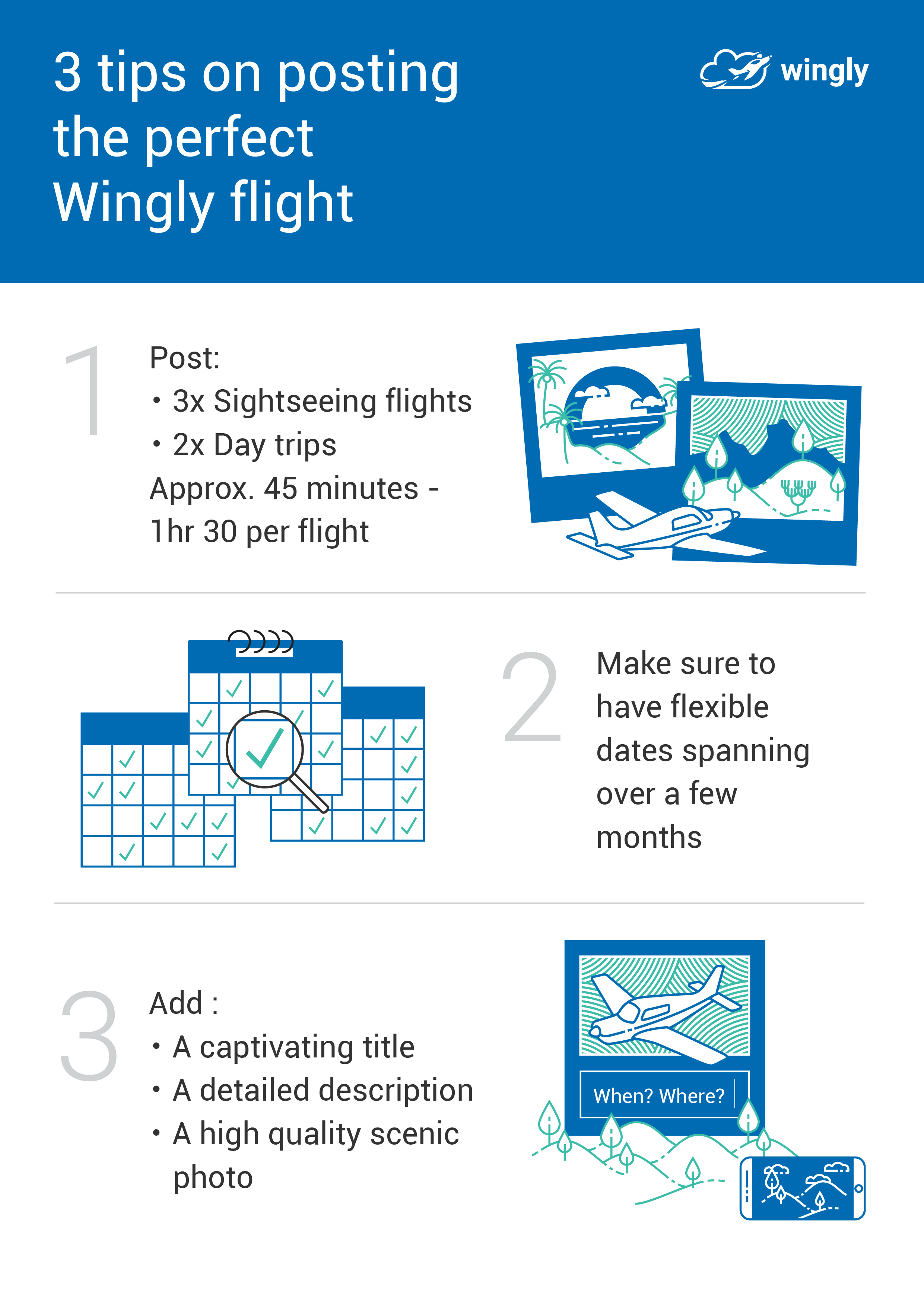 To start adding flights now Click Here.
---
---