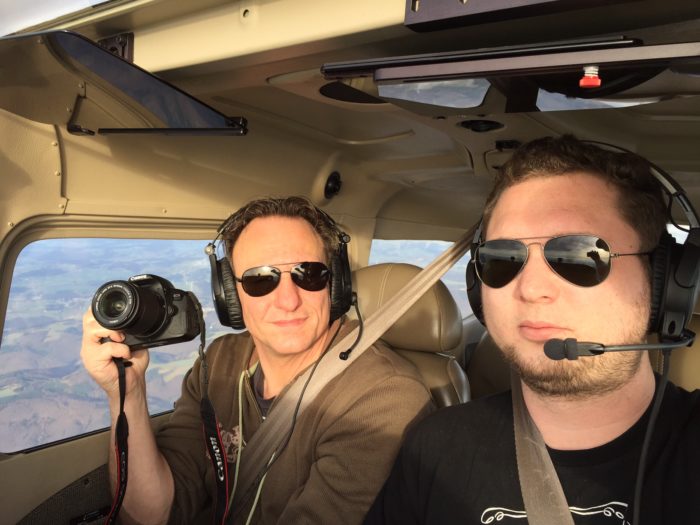 Where is the link between social dedication in the local fire department, the passion of flying and an unscheduled landing? Young pilot Matthew experienced it. In our new blog series "Fly with …" we want to introduce you young and old pilots, making it possible to understand with whom you are going to fly.
Who are you, what are your profession and your free time activities?
I am Matthew, 27, and currently live in Leverkusen next to Cologne. Professionally, I work in a software company doing the planning of technical equipment for big enterprises. In my free time there are to big hobbies: aviation and the fire brigade. For more than 10 years I dedicate myself as a volunteer firefighter and support young people becoming a serious fire fighter. As head of the young association our brigade, I really enjoy working together the kids and youth.
Every human should have the opportunity to get this unique feeling, when you lift of the ground and discover the world from the bird's eye perspective […]
Since when are you pilot?
Officially I can not call myself a pilot for that long. To be precise, since the 15th January 2016. My dream always was to have some kind of association with aviation. In the age of 10 I started with model flight – my first, completely made of wood self made plane, is still in my home. Afterwards, with 14, I got my sail plane license. Unfortunately I had to give this license up due to financial reasons. I already did a lot of solo flights but for the rest there was simply no budget. The first motor flying lesson then started in September 2014.
What are your current Wingly results? Are you satisfied with the platform?
It indeed is a great record and I am very satisfied. My first flight on Wingly was late February and since today I already took off with more than 20 Wingly flights. Except 3 flights, all of those 20 flights have been completely booked. Currently I have 14 further flights offered for the next months, and those already have 8 sold out flights. For me as a pilot it also simplifies the workload. I share my flights on Facebook as well but with Wingly, I have everything on one place. Click here to see the flights of Matthew around Cologne..
What about sharing makes it special to you?
Even as a young boy I always wanted to fly and it took a long time until it became reality. I am really thankful to have the privilege to call myself a pilot now. I have the honor to just take a plane and do what most people dream of their entire life.
Exactly that privilege I want to share with other people now. I believe, everybody should have the possibility to have this unique feeling as you take off, the contact to ground is gone and you have the bird's eye view on the world. This is unlimited freedom.
Your most exciting / funniest moment with Wingly passengers?
My most exciting moment was an unplanned landing in Leverkusen. A passenger, who has never been in an aircraft before suddenly felt sick. I was still in the control zone of Cologne and the airfield in Leverkusen is closed during lunch-time. Because the way back to Hangelar airfield would take 15 minutes, I decided to contact the air traffic controller at Cologne-Bonn and in Leverkusen. Both understood my situation completely and not even 3 minutes later we landed in Leverkusen. That was really exciting for me.
The nicest or funniest moment with Wingly was during a father-daughter flight. His daughter has never been in the air before (she was just 7 years old) and was really afraid before the take-off. It was such a great feeling as she was suddenly smiling and laughing not even 5 minutes in the air. She nearly had tears of laughter in her eyes. Even the air traffic controller could hear her through my headset and couldn't stop himself from commenting on this.
Which is your favourite route?
Oh, there are many really beautiful routes. I think I can't decide which one is the best. Variety is what makes it interesting. The best routes are the ones I have posted on Wingly. For example a flight over Cologne (Cologne Cathedral, Colonius, Cologne/Bonn Airport), Nürburgring racing circuit, opencast mining in Hambach, and, of course, Leverkusen. But the route to Norderney, the north sea islands, is beautiful as well. The landscape around Recklinghausen/Haltern is truly exceptional form above. Obviously leaving out beautiful routes along the North Sea shore.
What would be your dream flight starting in Cologne's airfield?
My absolute dream route would be a round trip through the US. Nothing would be better than starting here with my tiny plane, cross the Atlantic Ocean and then flying through the mainland US, Canada and Alaska. I know, it's just a dream at the moment, but I hope that I get, one day, the opportunity to do it.
My short-term goal is, to over less sightseeing flights but rather more A-to-B flights. For example, to southern France, Italy or Greece and a few other destinations. These flights are fantastic as well.
We thank Matthew for this great interview.
---
---